Rustic wrote:
First of all the BB7 is by far the best bike i have ever ridden, now that thats out of the way i seem to have an issue with the drive side black linkage plate (the bent one) hitting the frame when the shock is in the freeride position. does anyone else have this? is there a trusted solution?
Kinda strange that it's hitting only on the driveside. The tolerances are pretty tight in this spot, on my frame the plate sometimes rubs the frame because of thick powdercoat. But if it's happening on only one side, I'm afraid that your frame isn't perfectly straight. Maybe some part of the swingarm is bent, maybe it's just a loose bolt or something. It's hard to say without thorough examination of the frame - if you asked me, you should take your bike to good bike service.
Rustic wrote:
also does anyone know the dimensions of replacement shock mounting bolts, mine are developing a lot of play.
Are you sure you mean bolts? They usually last much much longer than bushings, which are the main reason of play in the shock mountings. I mean these things:
If you have a non-Manitou rear shock, take this drawing to machining workshop: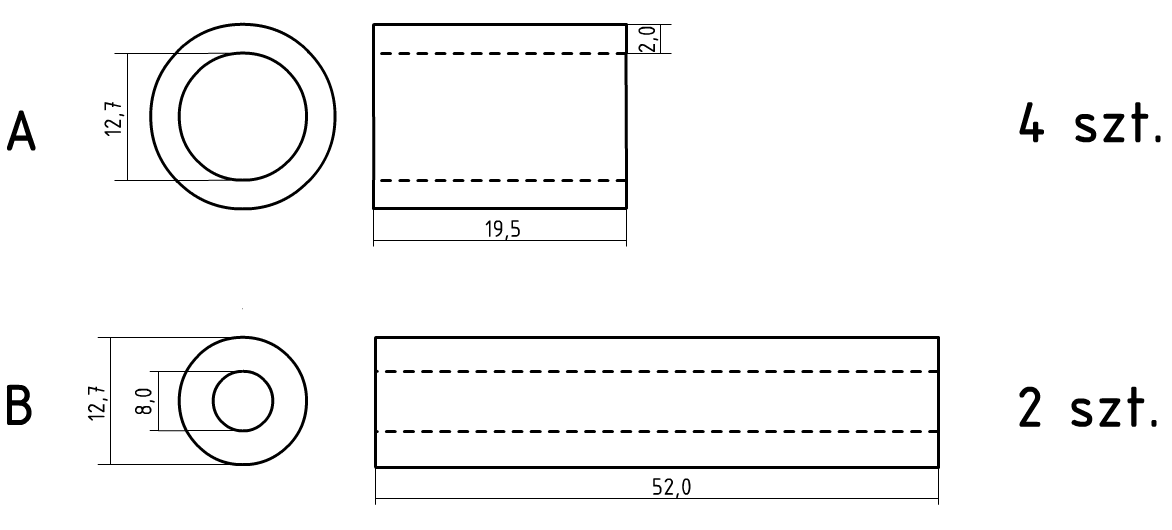 ("4 szt.", "2 szt." is quantity, dimensions are in milimeters: 1 inch = 25,4 mm)
I've made my bushes based on these dimensions and it works a treat.
If you have a Manitou shock, you'll have to measure it for yourself - I can't recall those dimensions, but they're different. I'm not sure about 5th Element, but probably it's like Fox etc.
Of course, you can also just buy all the hardware from Balfa UK, but they cost a hell lot of money (you can find prices here on the forum and on the
website
).